Skincare Tips
August 17, 2020
Highlights
Why should you use a night cream?
How to find your perfect match?
Benefits of using a night cream
FAQs on night cream for glowing skin
We've all been there - it's late and you're nicely snuggled in bed when you remember you forgot to apply your night cream. While it's ok to skip a day and you might feel tempted to make that a routine, missing this critical daily skincare step is like skipping your daily dose of vitamins. No harm is done in the short run, but much to lose in the long term. That's why a night cream is extremely vital to help your skin go that extra mile.
Why should you use a night cream?
Before we get down into serious business, let us help you understand why it is important to use a night cream for glowing skin. As you know by now that moisturizing your skin both in the daytime and at night is a must. However, using your regular day cream at night won't make the cut. Regardless of the time of day, your nighttime and daytime creams should be different. It's because each of them bear diverse benefits that you must watch out for. A day cream will more likely be lighter and contain a certain amount of SPF. On the other hand, a night cream for glowing skin will be slightly thicker and deliver maximum moisture. This brings you to the most important part – how to pick the best night cream for glowing skin?
Don't panic! We are here to help you find the best match for your skin.
So, how to find your perfect match?
Answering the following questions will help you find the correct night cream for glowing skin.
1. What's your skin type?
Regardless of your skin type, it is necessary to keep your skin packed with moisture. That said, your skincare products for dry skin will differ from oily skin, nonetheless, moisturisation is of prime importance. Using night cream that's lightweight in texture may be a clever choice for oily skin, but if you have dry skin, you should opt for a thicker formula.
2. Are your concerns related to anti-ageing?
Let alone the wrinkles or fine lines, using night cream will also help brighten up a lacklustre visage. They are specifically formulated to address your anti-aging concerns.
If you've figured what ails your skin, then you've pretty much won a major share of the battle. Therefore, we recommend you not to skip this daily ritual by listing down all the amazing benefits of night cream.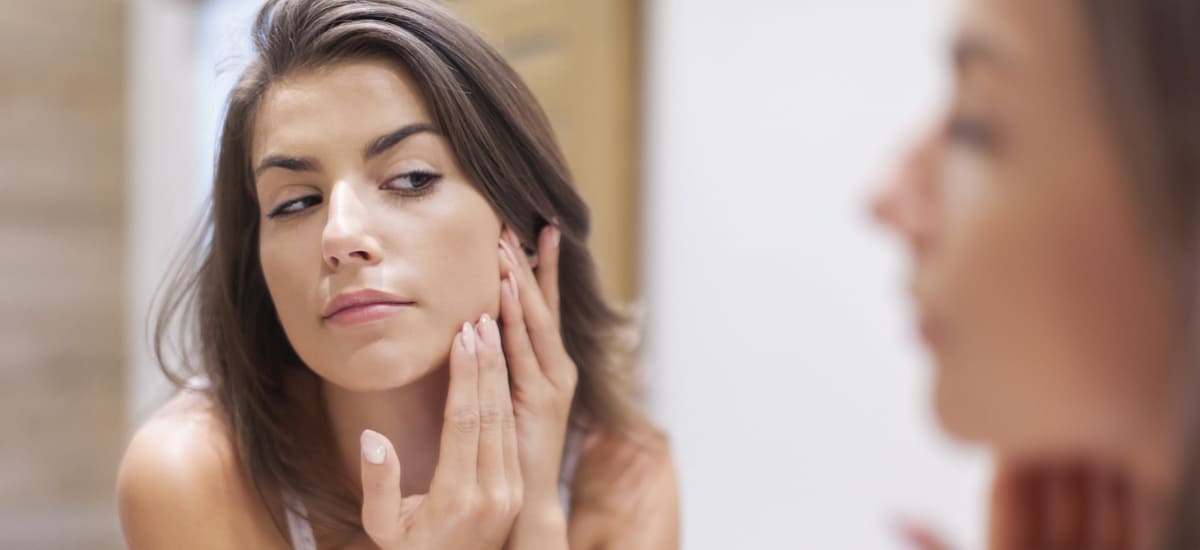 Benefits of using a night cream
Here's why your night cream for glowing skin must always be a part of your nighttime skincare routine.
1. Allows for overnight skin recovery
It may sound quite obvious but the purpose of a night cream is to help your skin with overnight recovery. The everyday hustle-bustle can take a toll on the skin and the only time your skin has the time to cope is when you sleep. The skin does most of its important repair work during the night and using a night cream ensures that the process is easier and more effective for the skin. Night creams make your skin stronger and prep it for the day ahead.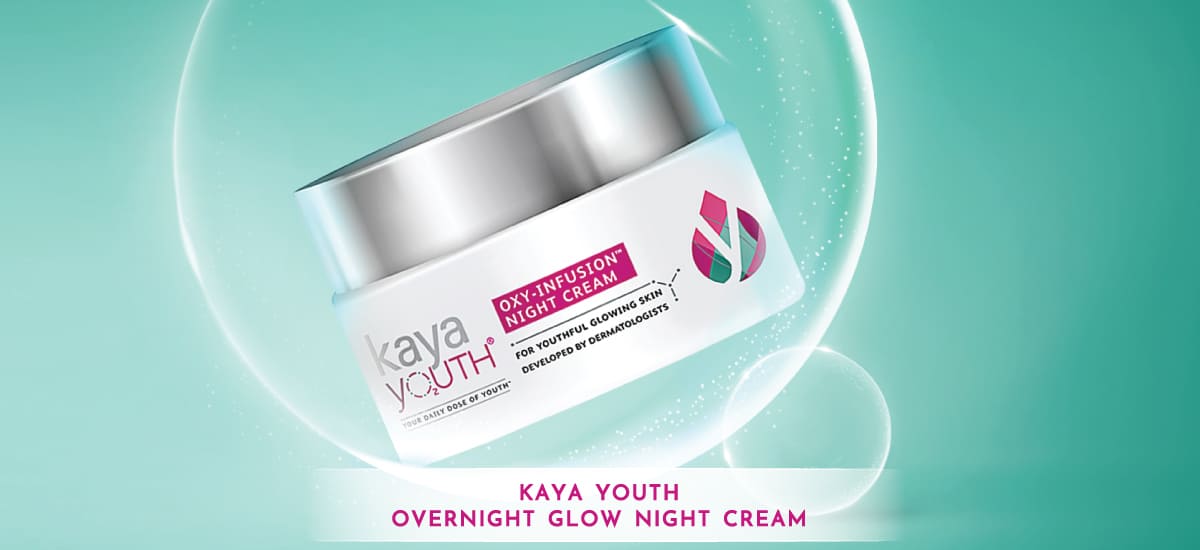 If you want to prep your skin for the day ahead with a night cream that will help your skin to repair itself while you sleep, try the Overnight Glow Night Cream by Kaya Youth. It's also the best night cream for glowing skin as it works hard to replenish skin moisture overnight. This Kaya Youth night cream is developed by dermats and is suitable for all skin types. The oxygen boosting complex in this night cream enhances the oxygen supply in skin cells which keeps the skin healthy and energized. It repairs skin damage while keeping away dullness, dark spots, uneven skin tone, and more. Also read about various skin specialists and their healthy skin routine.
2. Boosts collagen
One of the lesser-known benefits of night cream is its ability to boost collagen. Collagen is the building block of the skin - the biggest protein that is responsible for skin structure and health. As we grow older, the collagen levels in the skin go down - it can also happen due to excessive sun exposure. A night cream for glowing skin helps boost the production of collagen and increase its levels, which improves your skin's elasticity. This helps the skin look firmer and plumper.
3. Hydrates skin
Including a night cream in your daily nighttime skin routine ensures that your skin is always moisturized. Night creams are excellent at delivering moisture to the dry parts of your face and therefore work like a charm in keeping your skin hydrated.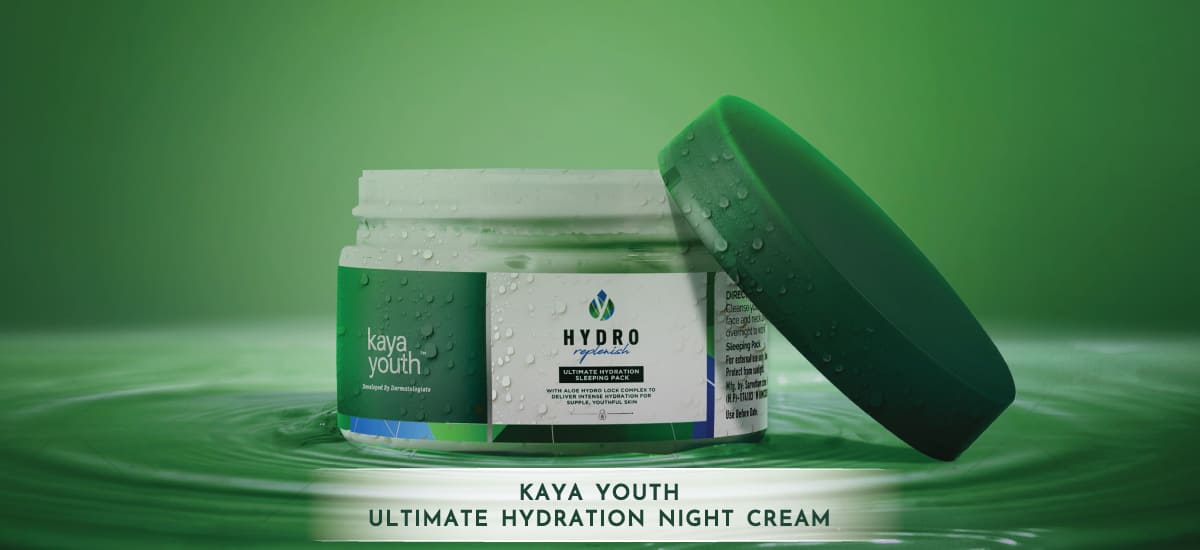 For the best results, you can try the Ultimate Hydration Night Cream by Kaya Youth. Moreover, it is also the best night cream for glowing skin because it delivers intense hydration to the skin through its infusion of pure aloe vera gel. This dermat-crafted Kaya Youth night cream for the face and neck comes with an aloe hydro lock complex, which locks in hydration for up to 24 hours and rejuvenates the skin to make it bouncy and youthful. It is non-sticky, spreads easily, and works gently overnight. This Kaya Youth night cream is paraben and sulphate-free and suits all skin types. It reduces uneven skin tone, revives dull skin, and soothes skin inflammation to give you a soft, clear, and healthy radiant skin.
If maske (caused due to wearing face masks) is your issue, then Kaya Youth's Overnight Recovery Cream will be your safest choice of night cream. Its allantoin and cica extracts will soothe skin irritation caused due to prolonged usage of face masks. Additionally, it will aid in reviving your damaged skin 2x times faster, thereby restoring your skin's natural health overnight. It's free from SLS and paraben and will make the best match for all skin types, including sensitive skin.
4. Fights signs of ageing
What makes a regular night cream the best night cream for glowing skin? It lies in its ability to not only brighten your skin, but also fight signs of ageing. Using an overnight cream will not only nourish the skin, but also help in the production of new skin cells and promote cell growth and renewal. This fights the signs of ageing and reduces fine line and wrinkles. Now, isn't that what the best night cream for glowing skin does? It restores the skin elasticity, prevents your skin from sagging, and helps you look more youthful.
5. Improves skin tone
Using a night cream increases blood circulation to the skin, which helps to improve skin health. It makes your skin texture finer and promotes an even skin complexion. If you want to improve your skin tone with ease, then night creams are the way to go!
Now that you know which is the best night cream for glowing skin, check out how to beat the heat in summer with naturally cool skincare tips on our Skin Health 1-1 section.
FAQs on night cream for glowing skin
1. What is a night cream?
Unlike a moisturiser, a night cream is meant to be applied only at night, before going to bed. They are formulated to support your skin's nighttime rhythm by repairing the day's damage through skin cell regeneration.
2. Are night creams necessary?
Yes! Night creams help soothe and hydrate your skin after a long, tiring day and also help induce cell renewal by amplifying the process of cell turnover.